Summary
Current Position: US Senator since 1997
Affiliation: Republican
Candidate: 2021 US Senator
Former Position(s): US Senator
Other Positions:  
Chair, Subcommittee on Transportation, Housing and Urban Development, and Related Agencies
Quotes: 
Cyber attacks & intrusions give our adversaries the opportunity to gather intelligence, steal intellectual property, & harm critical infrastructure. I joined @MarkWarner & @SenRubioPress in introducing a bill to help reduce cyber threats.
Featured Video: 
Republican Sen. Collins on why she voted to convict | Second Trump impeachment trial
Source: Government page
News
U.S. Senators Susan Collins (R-ME) and Bob Casey (D-PA) introduced the Prescription Drug Pricing Dashboard Act, bipartisan legislation that would ensure information about the price of prescription drugs is readily available. Their bill would improve transparency and help lower costs by requiring consistently updated information to be posted on the Drug Spending Dashboards at the Centers for Medicare & Medicaid Services.
"Millions of Americans are struggling with the high cost of prescription drugs, making it more and more difficult for them to access the treatments they require.  This problem particularly affects our seniors, 90 percent of whom take at least one prescription drug," said Senator Collins. "Our bipartisan legislation would help reduce the cost of medications by shedding light on the opaque pricing information on prescription drugs offered under Medicare and Medicaid."
Twitter
About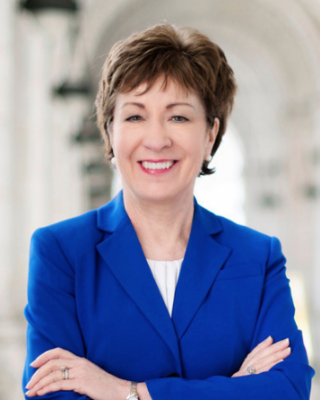 Source: Government page
When people in Washington want to solve a problem, they turn to the senior United States Senator from Maine, Susan Collins. First elected in 1996, Senator Collins has earned a national reputation as an effective legislator who works across party lines to seek consensus on our nation's most important issues. For the past six consecutive years, Senator Collins has ranked as the most bipartisan member of the U.S. Senate by the Lugar Center and Georgetown University.
Senator Collins ranks twelfth in Senate seniority and is the most senior Republican woman.  She chairs the Senate Aging Committee and the Transportation, Housing, and Urban Development Appropriations Subcommittee.  She also serves on the Intelligence Committee as well as the Health, Education, Labor and Pensions Committee. Known for her Maine work ethic, Senator Collins has never missed a vote in her 23 years in office.  In June 2019, she cast her 7,000th consecutive roll call vote.  She holds the longest perfect voting record in the history of the U.S. Senate.
Senator Collins is recognized as skillful legislator, which is one reason why Elle magazine named her one of the most powerful women in Washington.  Her record demonstrates significant legislative accomplishments in such critical areas as homeland security, national defense, disaster response, education, business development, health care, and issues of particular interest to our nation's seniors.  Along with Senator Joe Lieberman, Senator Collins authored a major overhaul of our nation's intelligence community after the September 11th attacks and also led the successful effort to repeal the discriminatory "Don't Ask, Don't Tell" law that prohibited gay and lesbian Americans from serving openly in the military.  Senator Collins is the founder of the Common Sense Coalition, a bipartisan group of senators who wrote the framework of the plan that ended the 16-day government shutdown in October 2013 as well as the shutdown in February 2018.
Senator Collins has had a long-standing interest in health care. In 1997, she founded the Senate Diabetes Caucus and has led the effort to more than triple federal funding for diabetes research. As the founder and co-chair of the Congressional Task Force on Alzheimer's Disease, she has worked to increase funding for Alzheimer's research and to strengthen support for family caregivers.  She is also a tireless advocate for education and has visited and read to children at hundreds of hundreds of schools across Maine.  A champion for America's small businesses, Senator Collins is proud of the 100 percent rating she receives from the National Federation of Independent Business, our nation's leading small business organization.
Constituent service has always been one of Senator Collins' top priorities. During her time in the Senate, she has helped tens of thousands of Mainers resolve issues with federal agencies at six constituent service centers throughout Maine.
Senator Collins was born December 7, 1952, and raised in Caribou, Maine, where her family runs a fifth-generation lumber business, founded by her ancestors in 1844.  A Phi Beta Kappa graduate of St. Lawrence University, she is married to Thomas A. Daffron and resides in Bangor, Maine.
Committees
Committee on Appropriations

Subcommittee on Agriculture, Rural Development, Food and Drug Administration, and Related Agencies
Subcommittee on Commerce, Justice, Science, and Related Agencies
Subcommittee on Defense
Subcommittee on Energy and Water Development
Subcommittee on Military Construction, Veterans Affairs, and Related Agencies
Subcommittee on Transportation, Housing and Urban Development, and Related Agencies (Chair)

Committee on Health, Education, Labor, and Pensions

Subcommittee on Primary Health and Aging

Select Committee on Intelligence
Special Committee on Aging
Caucuses
Afterschool Caucuses
Republican Main Street Partnership
Sponsored Legislation
Offices
Washington DC
413 Dirksen Senate Office Building
Washington, DC 20510
Main: (202)224-2523
Fax: (202)224-2693
Augusta ME
68 Sewall Street, Room 507
Augusta, ME 04330
Main: (207) 622-8414
Serving: Kennebec, Knox, Lincoln, Somerset Counties
Experience
Work Experience
Education
Bachelor
St. Lawrence University
Contact
Email:
Offices
Augusta
68 Sewall Street, Room 507
Augusta, ME 04330
Phone: (207) 622-8414
Bangor
202 Harlow Street, Room 20100
Bangor, ME 04401
Phone: (207) 945-0417
Biddeford
160 Main Street
Biddeford, ME 04005
Phone: (207) 283-1101
Caribou
25 Sweden Street, Suite A
Caribou, ME 04736
Phone: (207) 493-7873
Lewiston
55 Lisbon Street
Lewiston, ME 04240
Phone: (207) 784-6969
Web
Government Page, Twitter, YouTube, Facebook
Politics
Source: none
Campaign Finance
Voting Record
Search
Wikipedia Entry
ERROR: Couldn't resolve host 'https'
Recent Elections
2014 US Senator
| | | |
| --- | --- | --- |
| Susan Collins (R) | 413,505 | 67% |
| Shenna Bellows (D) | 190,254 | 30.8% |
| TOTAL | 603,759 | |
Source: Ballotpedia
Finances
COLLINS, SUSAN M has run in 3 races for public office, winning 1 of them. The candidate has raised a total of $17,836,904.
Source: Follow the Money
Committees
Committees
Committee on Appropriations
The House Committee on Appropriations — comprised of 30 Democrats and 23 Republicans and organized into 12 subcommittees — is responsible for funding the federal government's vital activities to keep the United States safe, strong, and moving forward.
Committee on Aging
This committee ensures that older adults, especially the growing numbers of older women and minorities, receive APA's attention by working toward the optimal development of older adults, expanding the scientific understanding of adult development and aging, expanding the delivery of appropriate psychological services to older persons and more.
Committee on Health, Education, Labor, and Pensions
The committee began in 1869 as the Committee on Education and in 1884 through the mid-1900s it was known as the Education and Labor Committee. In 1999, then Chairman James Jeffords of Vermont, worked to officially name it the Health, Education, Labor and Pensions (HELP) Committee.
Today the Committee is led by Lamar Alexander (R-TN) and Ranking Member Patty Murray (D-WA) and is comprised of 22 Senators; 12 Republicans and 10 Democrats. Under their leadership, the Committee is composed of three subcommittees, which have a broad jurisdiction over our country's health care, education, employment and retirement policies.
Committee on Intelligence
The United States Senate Select Committee on Intelligence (sometimes referred to as the Intelligence Committee or SSCI) is dedicated to overseeing the United States Intelligence Community—the agencies and bureaus of the federal government of the United States who provide information and analysis for leaders of the executive and legislative branches.
Voting Record
See: Vote Smart
Issues
Economy
Mainers are resilient. Along with the rest of the country, however, too many Mainers continue to struggle in this tough economy. Senator Collins believes that putting people back to work is the key to improving our economic recovery and should remain our number one goal. With this goal in mind, Senator Collins has offered or supported legislation aimed at providing tax relief, cutting red tape, and investing in a 21st century workforce.
Education
Senator Collins has a strong record of supporting education at all levels, including promoting early childhood education; improving our public school system for kindergarten through 12th grade; and working to increase the affordability of higher education. As a member of the Senate Appropriations and the Senate Health, Education, Labor, and Pensions Committees, Senator Collins will continue to work to ensure that Congress provides robust funding and targeted legislation for the most effective educational programs aimed at helping teachers and students.
Senator Collins has made engaging with Maine's students and faculty a top priority, visiting nearly 200 schools during her time as a Senator.
Environment
From tourism and recreation, to working forests, and fishing and agricultural industries, there is no doubt that Maine's economy is inextricably linked to the environment. Maine's greatest treasure is its natural beauty, and Senator Collins remains committed to advancing reasonable and effective policies in the U.S. Senate to protect the environment.
Throughout her time in the U.S. Senate, Senator Collins has worked to reduce greenhouse gas emissions, spur the creation of green energy jobs, and reduce our dangerous dependence on foreign oil – while retaining important American manufacturing jobs.  High costs of energy are burdensome to Maine families, truck drivers, farmers, fishermen, schools, small businesses, mills, and factories.  Nearly 80 percent of the homes in our state rely on heating oil, leaving Maine families extremely vulnerable to high crude oil prices.
Health Care
There is no question that our nation's health care system requires substantial reform. The status quo of soaring health care costs, struggling families, and health care provider shortages across Maine and the nation is unacceptable. Senator Collins frequently works with her colleagues on both sides of the aisle to address these and other important issues facing our nation such as improved mental health care, drug treatment programs, supporting America's caregivers, and nutrition programs.
As a native to northern Maine, Senator Collins understands the specific challenges that rural communities face for medical care. Throughout her time in the Senate, Senator Collins has consistently supported programs to expand access to and improve the health care system, particularly for citizens living in rural areas.
As a freshman legislator, Senator Collins founded the Senate Diabetes Caucus and has since led the effort to more than triple federal funding for diabetes research.
Infrastructure
Senator Collins recognizes the importance of restoring and improving our nation's crumbling roads, bridges, and other critical infrastructure.  As the Chairman of the Senate Appropriations Subcommittee on Transportation and Housing and Urban Development, Senator Collins has the unique ability to help establish our nation's transportation priorities, while working to help ensure that Maine's needs are addressed. She has provided strong funding for transportation projects nationwide and represented a thoughtful approach to infrastructure investment. Senator Collins has also long been a leader in efforts to end runaway and youth homelessness.
Safety
As a member of the Senate Appropriations Committee and the Senate Select Committee on Intelligence, Senator Collins holds a key position in Congress and has the important responsibility of overseeing and shaping national security issues of importance to both Maine and the United States. Senator Collins has fought for, and secured, provisions in annual defense authorization and funding bills that support work at Bath Iron Works, Portsmouth Naval Shipyard, the University of Maine, Saco Defense, Pratt & Whitney, and other companies important to the Maine economy.
Social Security
As the Chairman of the Senate Special Committee on Aging, Senator Collins' priorities include retirement security, highlighting the importance of biomedical research on diseases like Alzheimer's and diabetes, and scams targeting seniors.
As the Senate Co-Chair of the Congressional Alzheimer's Task Force, the Senator is particularly committed to putting an end to Alzheimer's disease, which has had such a devastating effect on 5.2 million Americans and their families.
Veterans
Today, nearly 22 million Americans hold the distinguished title of Veteran, and more than 127,000 of those individuals live in our great State of Maine. As the daughter of a World War II Purple Heart recipient, Senator Collins learned first-hand of the sacrifice that these heroes and their families make to advance the cause of freedom. Fighting on behalf of our nation's Veterans, Senator Collins has worked to support the needs of Veterans nationwide by protecting access to rural health care, holding the Department of Veterans Affairs accountable in the wake of scandal, and expediting the process for disabled veterans to get the services they need.